Egentlig skulle jeg skrive om noe helt annet, men en kommentar jeg fikk gjorde at jeg fikk en stor trang til å skrive om plagiat.

Takk, Katrine. Her er hvordan jeg oppfatter deg: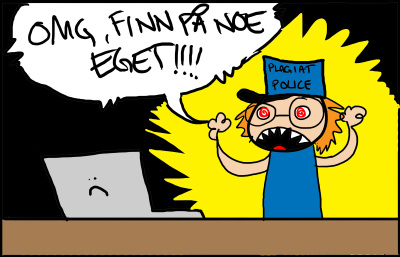 Jeg har lest Hyperbole and a half, og kan ikke nekte for at jeg er inspirert at arbeidet hennes. Problemet er bare at å angklage for plagiat er seriøst, og jeg føler sterkt for å legge meg i fosterstilling i dusjen hver gang jeg hører ordet. Det er så stor forskjell på å bli inspirert av og å direkte kopiere. Her er et par linker til tegneserier og blogger jeg leser og som har inspirert meg:
Det er alle gode og veldig populære internettsider, og jeg har aldri stjålet et eneste bilde eller tekst fra noen av dem.
Se foreksempel på alle motebloggene; De fleste er veldig like, men ingen anklager de for plagiat. Samme med rosabloggere, Fotobloggere og alle andre bloggere som kan legges i en bestemt kategori. Jeg lager en illustrert blogg av den ene grunn at jeg liker og både skrive og tegne. Jeg har laget tegneserier i 2 år, men det er begrenset hvor mye tekst jeg får inn i en stripe.
Jeg har forresten fått min del av ?HEI DU KOPIERER DEN OG DEN TEGNESERIEN? på den også. F.eks Nemi av Lise Myhre. Dette har sikkert mye med at vi begge er jenter som lager tegneserie, og at det da blir naturlig å sammenligne oss, men det er fortsatt veldig plagsomt.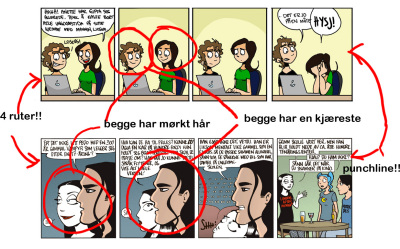 Men okei, jeg forstår at noen av dere sitter der hjemme og river dere i håret i frustrasjon over min likhet til Hyperbole and a half, og da har jeg bare en ting å si:
LØP! Løp, og kom aldri tilbake!
Faen, der kopierte jeg Scar..
-Hanne